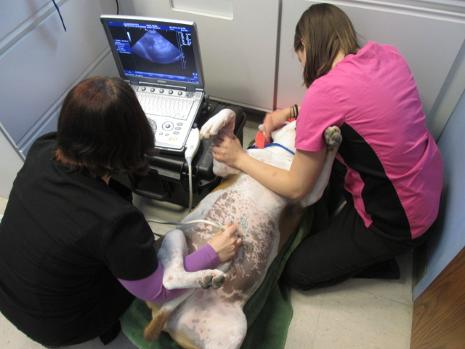 DIAGNOSTICS
In addition to radiology services, our hospital also offers laboratory services. STAT in house testing is available and includes complete blood counts, serum chemistry, urinalysis, and clotting tests. Our hospital also offers on site cytologies, such as skin scrapings and ear swabs. We are able to perform an EKG for cardiac patients, and blood pressure monitoring is available for at risk patients. Eye pressure testing is performed while your pet is awake. Fungal (ringworm) cultures are performed as well.
Heartland Animal Hospital utilizes traveling ultrasound services. A board certified cardiologist travels to our facility in order to perform heart ultrasounds. Abdominal ultrasounds are performed by a technician, and the images are sent to a board certified radiologist for interpretation.
Additional comprehensive diagnostic blood, urine, and fecal tests are submitted to an outside reference laboratory which has been accredited and adheres to specific guidelines regarding quality control.