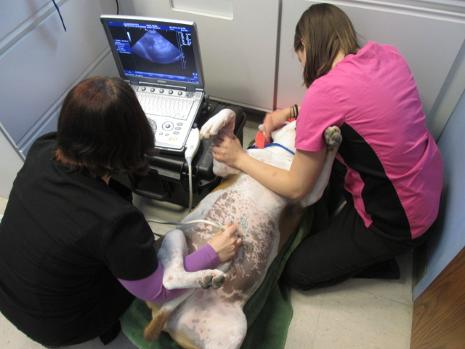 DIAGNOSTICS
Hopefully your pet will never need specialized diagnostic services, but if that need arises, we are here to help. We have the ability to perform STAT diagnostics, such as complete blood counts, urinalyses, serum chemistries, and blood clot time testing. We can also perform electrocardiograms (EKG's) and blood pressure checks here in the office. If you pet develops an eye problem, we can check the pressure for glaucoma, monitor tear production, and test for a corneal ulcer. Our doctors and staff can check for skin and ear bacteria using cytology slides. Results for all of these diagnostics are available before you leave the office. All of the laboratory equipment is regularly subjected to strict quality control standards set forth by the American Animal Hospital Association.
Ultrasound services are also available. A board certified cardiologist travels to our facility in order to perform heart ultrasounds so that your pet doesn't need to travel to a specialty center for this service. Abdominal ultrasounds are performed here too. As seen above, we are able to keep your pet very comfortable during this test. A technician gently uses the ultrasound probe to look at all of the abdominal organs, including the liver, kidneys, intestines, and spleen. A board certified radiologist reviews the images in order to provide a diagnosis for your pet.
We offer many other types of testing using an accredited outside reference laboratory which adheres to specific guidelines regarding quality control. Test results are available in less than 24 hours for most types of tests.